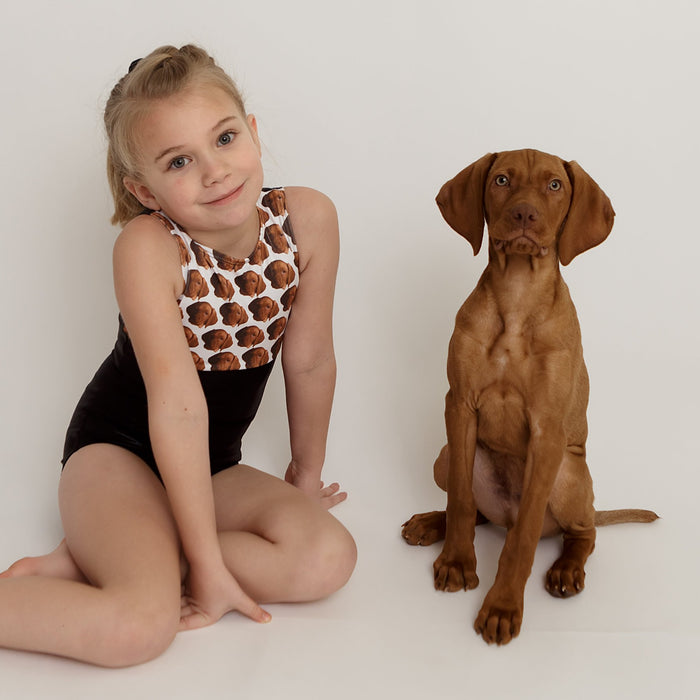 Custom Pet Face Leotard
Original price
$ 0.00
-
Original price
$ 0.00
As any gymnast knows, leotards are an essential part of practice and competitions. But why settle for a boring, store-bought leotard when you can have a custom one made featuring your very own pet's face!?

Our custom pet face leotards are made with high-quality Mystique spandex and can be made in any color you like. They're sure to make you stand out from the crowd and show your personality. Plus, they make a great conversation starter! A matching hair scrunchie is included.

So what are you waiting for? Order your custom pet face leotard today!
 𝐏𝐇𝐎𝐓𝐎 𝐐𝐔𝐄𝐒𝐓𝐈𝐎𝐍𝐒
𝑾𝒉𝒂𝒕 𝒎𝒂𝒌𝒆𝒔 𝒂 𝒒𝒖𝒂𝒍𝒊𝒕𝒚 𝒑𝒉𝒐𝒕𝒐?
Avoid blurry photos – The higher the resolution, the better. You want to send a happy & clear photo of your pet.
𝑯𝒐𝒘 𝒅𝒐 𝑰 𝒔𝒖𝒃𝒎𝒊𝒕 𝒎𝒚 𝒑𝒉𝒐𝒕𝒐?
It's simple! Upload your photo to be submitted with your order by clicking the upload button on the product page. Max file size 10mb.

* This item is made to order just for you! Due to the custom nature of this product and many color and size variations possible, all sales are final on custom made to order and personalized products.